Meet your 2021-22 Alaska HOSA State Officers! Alaska HOSA State Officers are a critical component to the success of our organization. Officers help recruit members and manage HOSA at the ground-level. State office is a wonderful opportunity to work on a team of driven individuals all striving for the same goal.
Alaska HOSA encourages State Officers to focus not only on attending conferences but to facilitate chapter activities that serve needs within your community.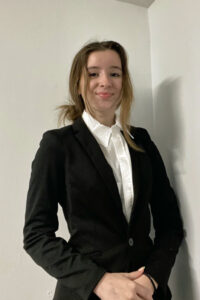 Aubrey
Hi! I'm Aubrey and this year I am really looking forward to helping create a fun environment for all HOSA students! I know everyone else working towards this goal is very passionate and I'm honored to be among them. I currently attend Service High School and am also in the biomedical career academy there. I plan to pursue a career in medicine, specifically neurology, and I'm grateful for all the experience HOSA has taught me to make that a reality. This is my first year being an officer for HOSA and I am ready to learn the nitty-gritty process of planning the Alaska HOSA conference. Outside of HOSA, I enjoy cheerleading and running, and also love to downhill ski on most weekends. I paint quite often as well and also enjoy drawing in my free time. I'm excited to help HOSA be the best that it can be!
---
Colton
Ever since his first fist days of high-school, Colton has been inspired by the work of HOSA; the opportunities provided by the club, as well as the dedication of its members. His career goal is to become an Orthopedic Surgeon, as well as advocate for public health. Now a junior at Mat-Su Career & Tech High, Colton is honored to be a part of this year's State Officer Team. He believes that with his skills in communication, leadership, and work-ethic; he will be able to benefit HOSA, its members, and its encompassing community. Aside from HOSA and school, Colton loves hiking in the summer, snowboarding in the winter, and drinking coffee all year. He can be found playing sports, volunteering, and raising animals for 4H. Colton is thrilled to be able to help Alaskan HOSA members, and to ensure they are heard, supported, and given the same opportunities as he.
---
Pamela
"Currently a senior at Service High School, Pamela was exposed to HOSA through the Biomedical Career Academy. She enjoys reading, going on long car rides with her friends, and volunteering in her community. Thanks to HOSA, Pamela is motivated to pursue a career in the biomedical field and although she is unsure of which direction to go in, she is confident she will be successful. She is excited to be a part of this year's HOSA state officer team and looks forward to making this year's HOSA as fun as she can."
---