Meet your 2022-23 Alaska HOSA State Officers! Alaska HOSA State Officers are a critical component to the success of our organization. Officers help recruit members and manage HOSA at the ground-level. State office is a wonderful opportunity to work on a team of driven individuals all striving for the same goal.
Alaska HOSA encourages State Officers to focus not only on attending conferences but to facilitate chapter activities that serve needs within your community.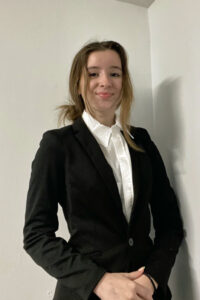 PRESIDENT
Aubrey
– Hi! I'm Aubrey and this year I am really looking forward to helping create a fun environment for all HOSA students! I know everyone else working towards this goal is very passionate and I'm honored to be among them.
I currently attend Service High School and am also in the biomedical career academy there. I plan to pursue a career in medicine, specifically neurology, and I'm grateful for all the experience HOSA has taught me to make that a reality. This is my first year being an officer for HOSA and I am ready to learn the nitty-gritty process of planning the Alaska HOSA conference.
Outside of HOSA, I enjoy cheerleading and running, and also love to downhill ski on most weekends. I paint quite often as well and also enjoy drawing in my free time. I'm excited to help HOSA be the best that it can be!
VICE PRESIDENT
Siddhi Arya – Currently a senior at Hutchinson High School.
TREASURER
Adria Worth – Currently a Junior at Service High School.
PARLIAMENTARIAN
Lila Steele – Currently a Sophomore at Service High School.
HISTORIAN
Samuel Paskin – Currently a Senior at Bartlett High School
SECRETARY
Oumie Fatty-Hydara – Currently a Senior at Bartlett High School.
REPORTER
Ellison Pahkamaa – Currently a Sophomore at Hutchinson High School.